The offer I received in the mail made my head spin; renowned Croatian journalist Natasa Ban Leskovar and her cameraman would be travelling to Dublin to conduct an interview with me, which would be broadcast during the primetime evening news and inside the respected political show "Labyrinth." Naturally, I had to Google her name to verify her authenticity. I always do. (I would do this for any request.) I'm a little suspicious of people's intentions at times. Life's taught me so. Fortunately, Natasa is one fine and cool journalist who has long been proven through her work on Croatian Radio and Television.  Following those days, I received two more equally flattering offers of similar themes that I had to put on hold. What perfect timing. I'm not hungry for the attention, and it doesn't mean that much to me to be on TV, but I do like it when my voice reaches out to people. If one person is saved from the agony of unemployment in Croatia, then every word spoken or written was worth it. And let's be honest, we all know that the camera is my friend; I love being in front of it.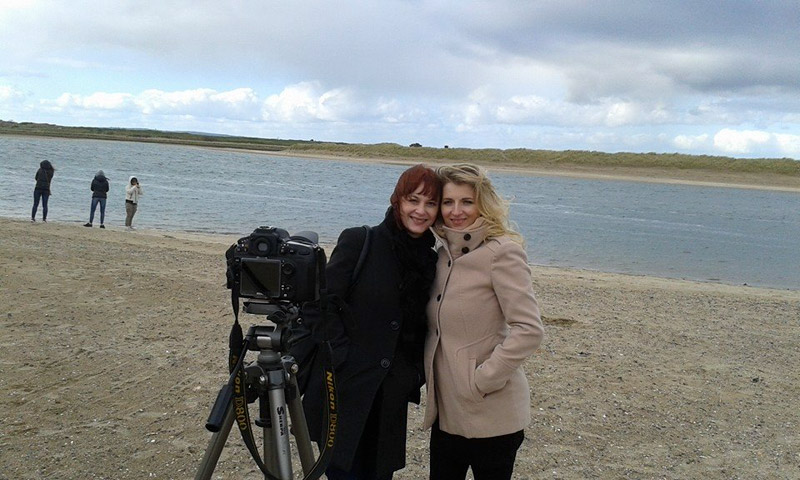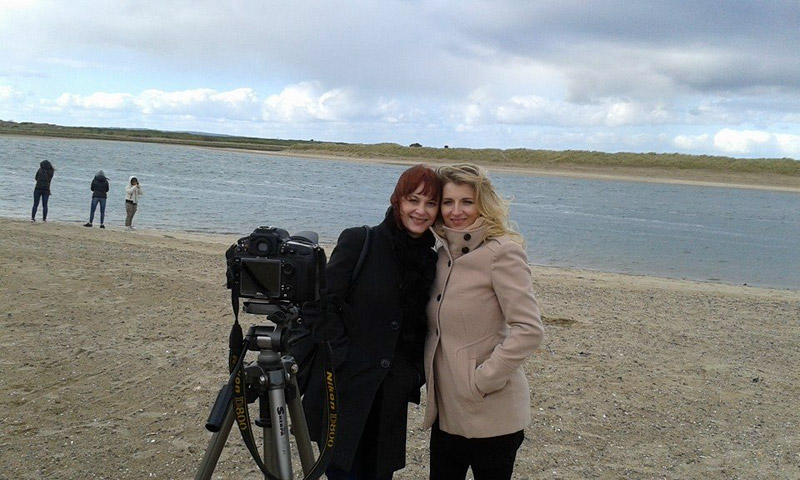 After a few weeks and loads of correspondence via Facebook, the day of the interview had finally arrived. I had the urge to cancel that morning though because of a terrible cold plaguing me since Saturday, and being buried in work didn't help with the healing. I felt and looked awful, waking up with red teary eyes, swollen face, the list goes on… We thankfully agreed that the crew will come a little later than planned, giving some time for the drizzle to subside and paracetamol (which I swallowed like sweets) to kick into full effective. Eye drops were a wee bit helpful, and if there's something I can definitely thank God for, it's for the person who invented it: MAKE-UP! Especially in such critical situations…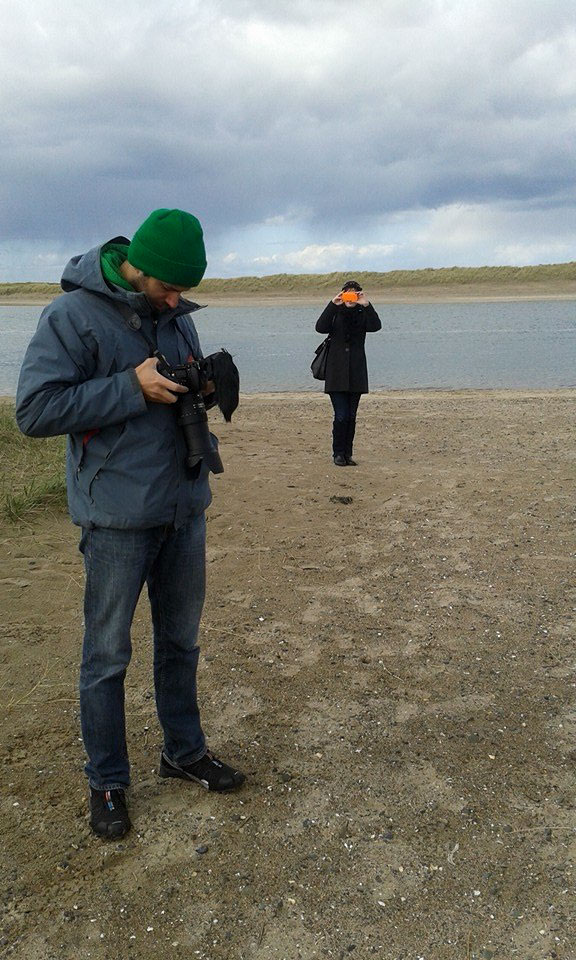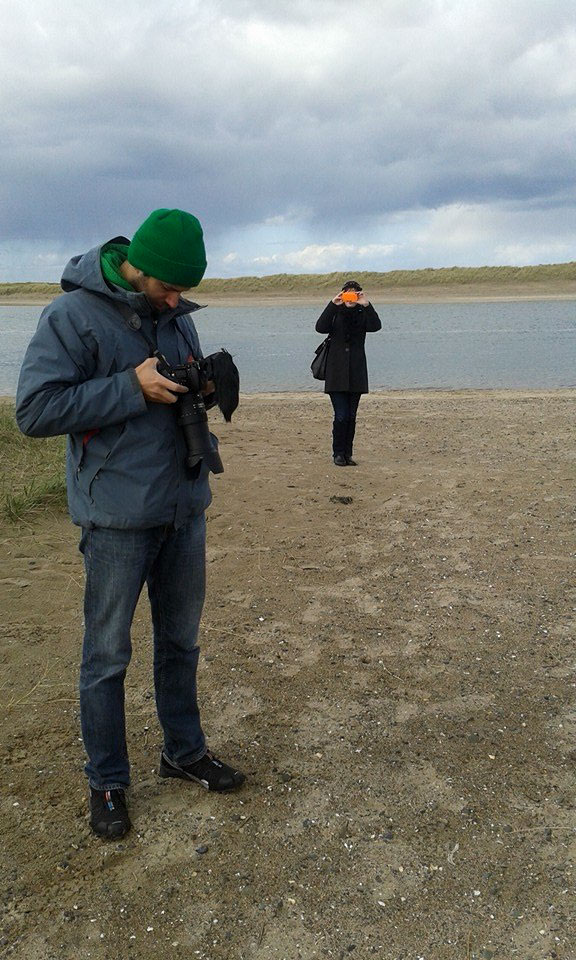 "Ana is a great worker, wonderful relationship with the clients, amazing energy, a positive person and her colleagues and clients love her. We did not know how popular she is until we looked at her blog. We all feel like we work with a celebrity."




Of course, awful as I am, I arrived a few minutes late, and found them waiting in front of the train station.
"So you're the type that should be told that an interview is 15 minutes before its scheduled time… "
I humbly replied, "Yes, I'm one of those."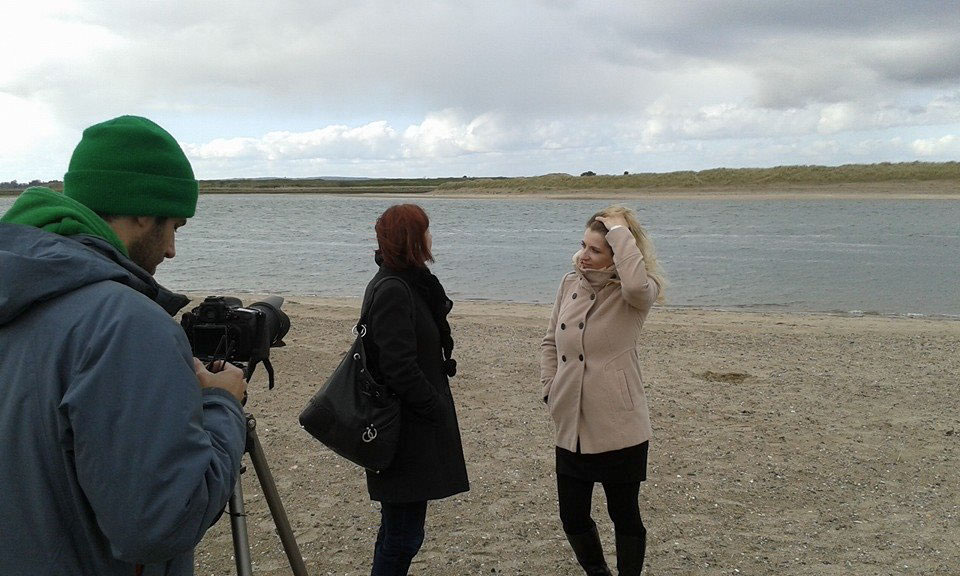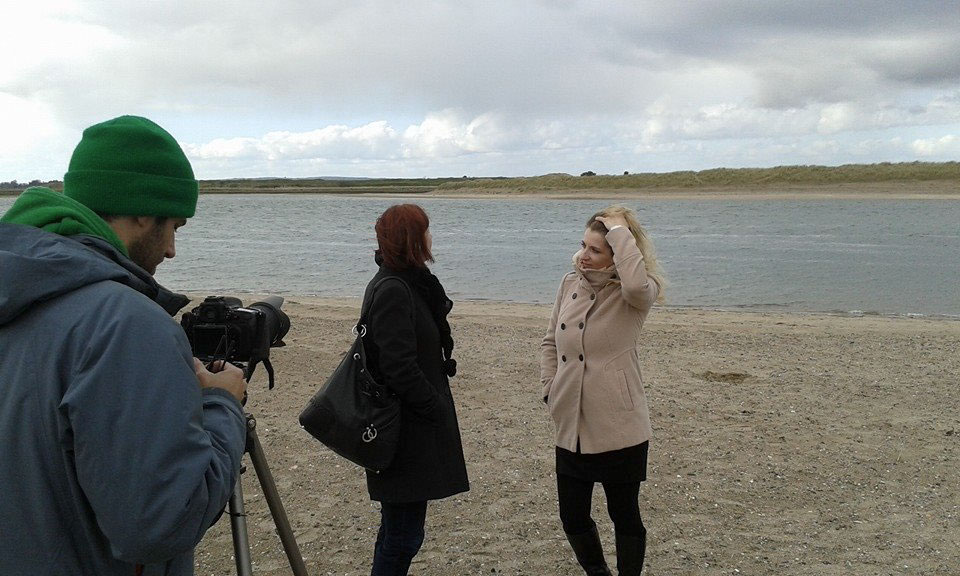 I took them to a local coffee shop, requesting to film indoors because I was frozen solid. Natasha kindly agreed, and the cameraman Antonio, naturally, set up a camera outside on the terrace, for better light. J I usually have the luck of freezing on all filming's, whether for a series, movie, photo shoot or interview. But when the adrenaline hit me, I forgot all about being a human popsicle. I don't like to watch myself on TV. If anything, I hate it. I think I look better live, but in the end I don't mind since the process of recording is exciting. I get the same excitement when you, my dear readers, are liking and commenting on my posts, or when I see how many hits I've got. Adrenaline…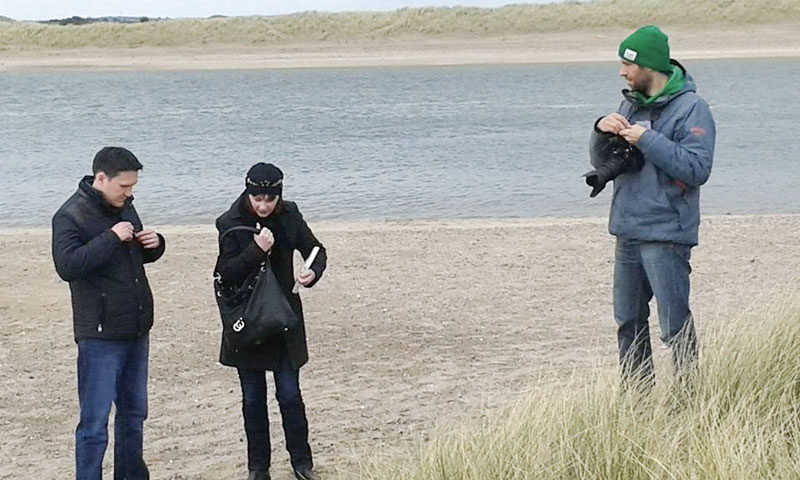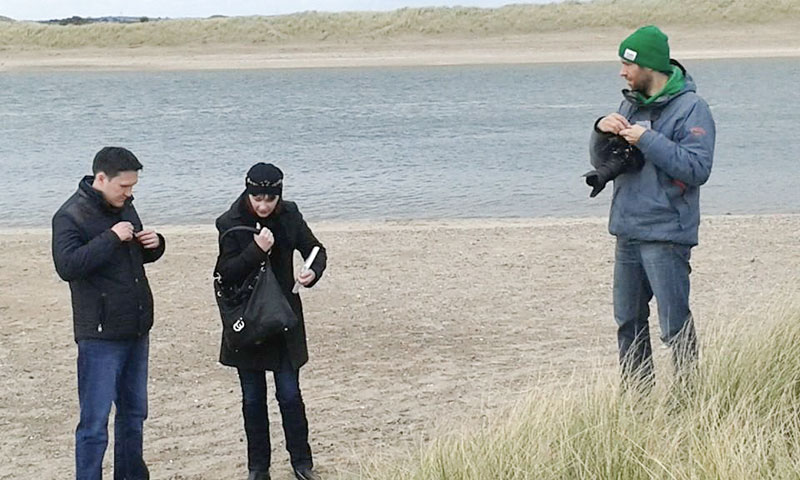 The news crew and I hung out for hours while shooting, walking along the beach, freezing in the wind… (I'll get used to it, eventually.) Nevertheless, it was a great day. Two days later, they wound up waiting for me again for a good 10 minutes, but this time in a cosy environment at my workplace. I'm terrible, I know. The salon owner from upstairs, Andrew, let me borrow his hairdresser to play the role of my client. The cameraman was funny with the statement "So it is not surprising that you are so happy here: it smells good, looks great…" I would add "and with good, relaxing music."  My dear manager who loathes the camera, agreed to make a statement at the end of the recording. She said so many wonderful things about me: "Ana is a great worker, wonderful relationship with the clients, amazing energy, a positive person and her colleagues and clients love her. We did not know how popular she is until we looked at her blog. We all feel like we work with a celebrity." Now you tell me how many managers would do such a thing?!?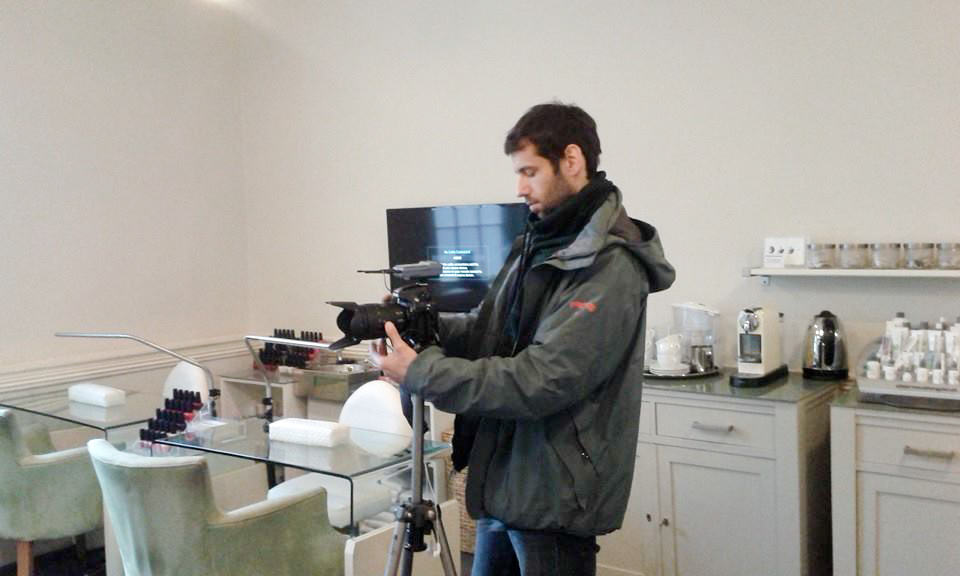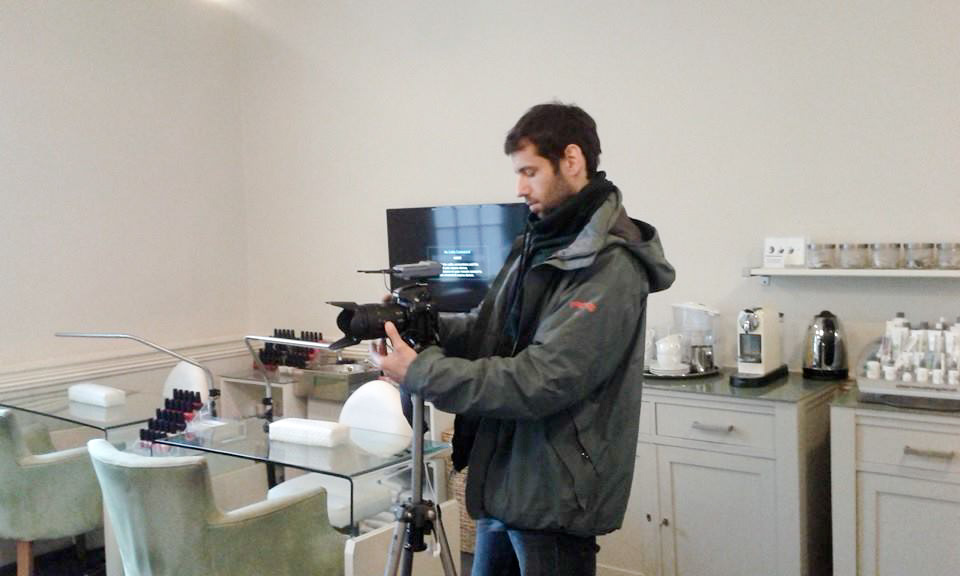 Not only Croatians, but people from all over say that Irish bosses are quite friendly. Of course there are always exceptions, of which I had my fair share of run-ins with.
A few days later, the salon owners asked what it was like on set. I said that it was great and the manager said wonderful things about me. One of them says "It was all a lie!" Another asks me what the question was, so I say that they asked my manager how it is to work with me. The owner replies laughing, "Awful! Horrible! ". J Typical day at work. Good fun.  It was a lucky coincidence that filming took place on the same date as my 1 year anniversary since I started working there, in 'My empire,' as dear Natasa called it in her story about me.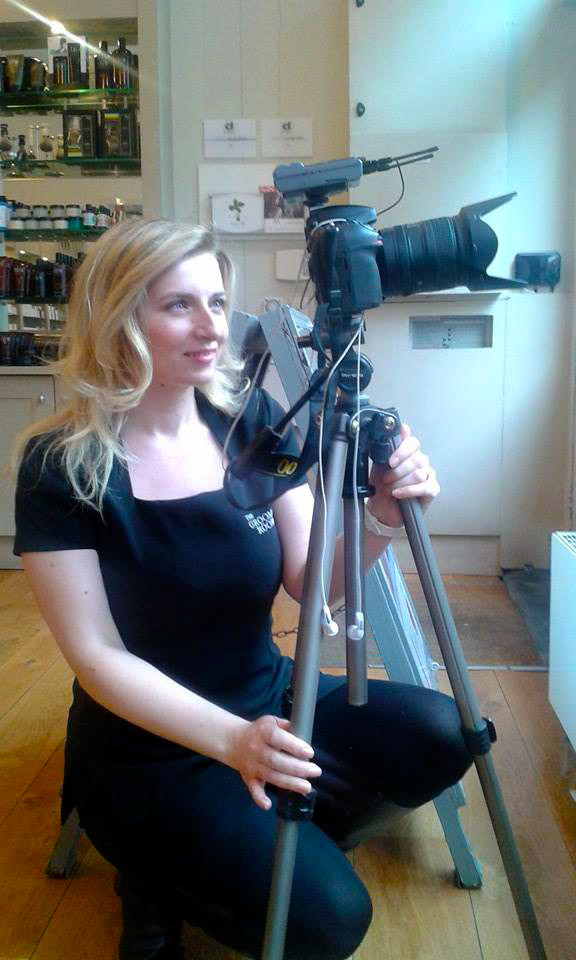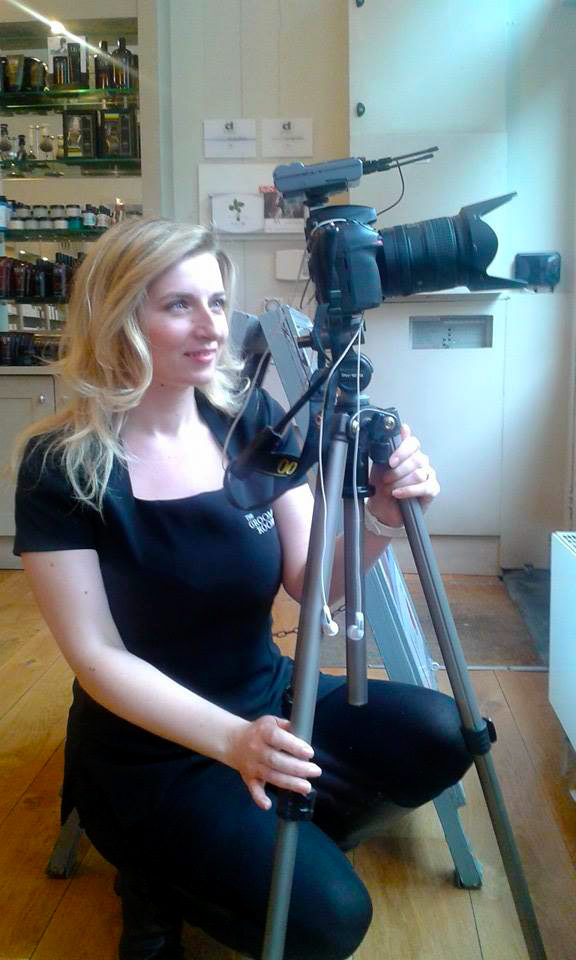 The next guest from Croatia to visit me is even more important: my dear mother. She will stay with us for two months, and will be arriving within a few days. With her also arrives an excess of approximately 3kg on my curves, because it will inevitably happen with her wonderful cooking, cheese strudel, and other culinary favourites. This will be accompanied by her running after me around the house hollering "Did you eat??" Her favourite statement since I can remember is "Food is the most important thing in life, one cannot be happy if he's hungry. You see your ex-girlfriend, she's nervous because she is too thin. Obviously not eating enough! Who would not be nervous!" Well, next time when some of my haters annoy me, I will remember that. They're nervous and cranky because they're not eating enough. Or not eating great food, like mom's home cooking.
Kisses, everyone!
Yours truly,
Ana
xoxo